Pesto Sun Dried Tomato Cheddar & Parmesan Bread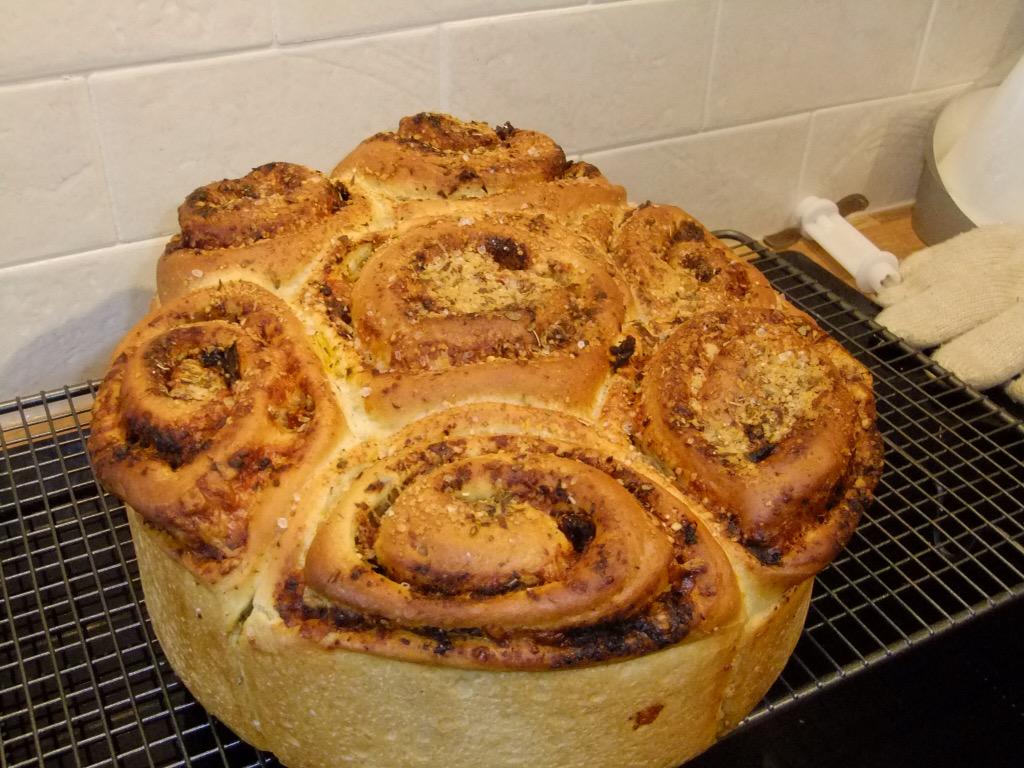 Bread Dough
500g Strong bread 10g instant dried yeast
10g salt
40ml olive oil
320ml water
Filling
3 tbsp Pesto (more or less to taste) Homemade or shop bought
Approx. 1/3 jar sun dried tomato
75g grated cheddar
2 to 3 tbsp grated parmesan
Herb of your choice, dried or otherwise; I use Oregano
You will also need a 23/25cm springform cake tin.
Method
Add all the bread dough ingredients to a bowl, keeping the salt and yeast as far apart as possible.
Mix by hand or machine if you prefer and knead for around 10 minutes until nice and elastic. Place the dough in a bowl with a dusting of flour, cover and leave in a warm place for around 60 minutes, until doubled in size. Alternatively, if you own a bread making machine, set it at the dough only setting (usually around 45 mins), then pop in a bowl as above but for just 20-30 mins.
Once doubled in size, remove from bowl and knock the air out. Form into a rectangle around 30cm x 40cm and cover with the pesto, leaving a 10cm clear space at one edge. Cut the sun dried tomato into small pieces and spread over the pesto then scatter the grated cheddar.
When you are happy with the coverage, roll up towards the edge with the clear space just like a Swiss Roll. Dampen the edge with water, seal, then slice this roll into 7 pieces.
Brush your cake tin with olive oil, put one of the seven pieces in the centre and the remainder around the edge of the tin. Cover and leave in warm place for one hour, until approx. doubled in size. Drizzle a little olive oil over the top and scatter some parmesan cheese, a little sea salt crystals, pepper & a little oregano or herb of your choice. Place on a baking tray in a pre-heated oven – 220 degs C or 200 degs C fan assisted for 30 minutes. Remove when fully baked and a nice brown colour. Leave to cool and have with your pasta dish. You can freeze whatever is left for another day, just defrost and warm through slightly.
Total time: Around 3 hours
Total cost: £1.60
European Yeast-Leavened Cake – This one never fails to please! 
Orange & Raspberry Savarin Cake
Ingredients
50ml lukewarm milk
8g dried active quick yeast
200g plain flour
100g unsalted butter softened
3 large eggs or 4 medium
325g sugar
500 ml water
zest and juice of one orange of one orange
75ml Cointreau orange liqueur
300ml double cream
300g raspberries
Method
Add the yeast to the milk and leave for 15-20 minutes until frothing
Mix the flour, yeast and eggs in a bowl, cover and leave to rise (45-60 minutes).
After dough has risen add the butter and 2 tbsp sugar from the 325g to the dough and mix well with your best wooden spoon.
Transfer the mixture to your greased Savarin ring and allow to rise for 40 minutes before baking at 190 C for 30 minutes.
Boil the water with the remaining sugar plus the orange rind and simmer for around 10 minutes. Stir the Cointreau into the syrup once it has cooled and pour over the cake while it is still in the tin and leave to cool/absorb the syrup.
Once the cake is cool, turn it out on to a plate, whip the cream, transfer to a piping bag with a large nozzle and garnish the top and inside the ring of the cake with cream and raspberries.You can do another row of raspberries or sliced strawberries round the bottom if you have enough spare.
Call in your friends to admire before consuming. As this is a very moist cake it will keep for a few days without the cream being added. This one was to have been my Signature Bake for Week 6 of the Bakeoff, unfortunately the Hollyberry didn't get a chance to taste it as they sent me home in Week Five – their loss.
Shortbread Biscuits
Ingredients
225g butter
100g caster sugar
225g plain flour
85g fine semolina (Marshalls Farola is best)
½ tsp salt
Rice flour for dusting
Cream the butter and sugar until light and fluffy using a stand mixer or by hand.
Sieve together the flour, semolina and salt and mix with the creamed sugar and butter until well combined.
Dust the dough with a little rice flour, wrap in cling film or a food bag and chill for 15 minutes.
Set oven to 170 degs C
After 15 minutes, dust your work surface with rice flour and roll out the dough to approximately 5mm thick, prick the surface all over with a fork or docker. Cut out biscuits using a 2-1/2" fluted cutter (6cm) and transfer to a parchment lined baking tray using a palette knife. Re-roll cuttings and repeat. Bake for approximately 17 minutes but do not allow to brown.
Remove from oven when done, dust with caster sugar and place on cooling rack using a palette knife as they are very soft at this stage.
These are best kept for a few days in a sealed container before eating, they seem to improve in flavour after a week or so.
Notes on shortbread
Never use cornflour in your shortbread and forget about the suggestion of some recipes that you use vanilla essence. They should only taste of butter and for that reason only use quality butter and never vegetable fat or margarine.
I have made these with 50g of porridge oats in place of 50g of the flour and have done something similar using ground almonds; both of these work very well.
They make a nice treat with a squirt of whipped cream and topped with a strawberry or raspberry.
Total time: 45 minutes
Total cost: around £2.20 and makes approximately 32 biscuits
Gateau Frasier
Recipe from various sponge/strawberry cake recipes
The various parts for this cake are best made the day before, kept refrigerated and assembled when required.
Ingredients
Cake
120g marzipan
70g caster sugar
5 large eggs
150g plain flour
8g baking powder
60g melted butter
Using a stand mixer with the beater paddle, beat the marzipan and sugar for 5 minutes on medium speed. Add two eggs and mix for 1 minute. Remove paddle and replace with the whisk attachment, then add the remaining eggs whisking for 10 minutes. Fold in the sifted flour and baking powder carefully and incorporate the melted butter. Transfer mix to a 9" cake tin and bake at 180 degrees C for around 35 minutes. This is much the same as a Swiss Roll mix with fat added.
Remove from oven and when cool, trim off the top and slice horizontally into two slices and trim the two discs to 8" diameter. You could just use an 8" cake tin but trimming leaves the edges white instead of brown which looks better.
The cake can be made a day ahead and stored in a sealed box until required.
Crème Patisserie
600ml whole milk
Vanilla pod or 2 tsp vanilla bean paste
4 large eggs + 2 egg yolks
180g caster sugar
100g cornflour
150g butter at room temp
Pour the milk into a medium to large size pan, add the split vanilla pod or paste, bring to the boil then remove from heat. Whisk the eggs, sugar and cornflour in a bowl to blend. (tip: mix the cornflour and sugar well together before adding to eggs).
Add the milk and vanilla to the egg mix, whisking and transfer to a clean saucepan over medium heat. Stir constantly until thickened – needs to be very thick. Transfer to a large piping bag and refrigerate until very cool – best left overnight in the refrigerator.
Strawberry Syrup
50g caster sugar
50ml water
½ tsp vanilla bean paste
250g strawberries
Juice of half a lemon
Dissolve the sugar in the water.
Blend the resulting syrup with the strawberries and lemon juice in a blender and leave to cool.
Finishing the Cake
200g marzipan either natural or coloured to your choice
750g strawberries
60g chocolate for decoration
The Assembly Process
Using a mousse ring at 8" or an 8" springform tin, place a disc of baking parchment in the bottom and line the side with a 60mm deep piece of acetate. Place the first disc of cake in the bottom, pressing well down and coat with half the strawberry syrup. Taking about 12 strawberries, all of much the same size, hull and cut in two. Place the strawberries cut side outward on top of the sponge, pressing each down firmly.
Take the crème patisserie and pipe between each strawberry and cover the sponge with around half of the remaining crème pat. Cut around 300g strawberries in quarters and place over the crème pat then use the remaining creme pat, cover the strawberries. (keeping a few grammes in the bag)
Take the second sponge disc, cover one side with the remaining syrup and place over the crème pat, pressing well down.
Chill for 3 to 4 hours then complete the cake. Roll out the marzipan (coloured or otherwise) and cut to an 8" disc. Coat the top of the cake with what's left of the creme pat and place the marzipan on top.
Decorate as required with melted chocolate and/or marzipan roses and strawberries. Remove the mousse ring/springform tin, slide off the acetate ring and be simply amazed at your apparent skill!